Join the crusade with brand new experiences such as a Zombie Hunt in the summer and Apocalypse Weekends in May & June.
We'll meet you at the Safe Zone...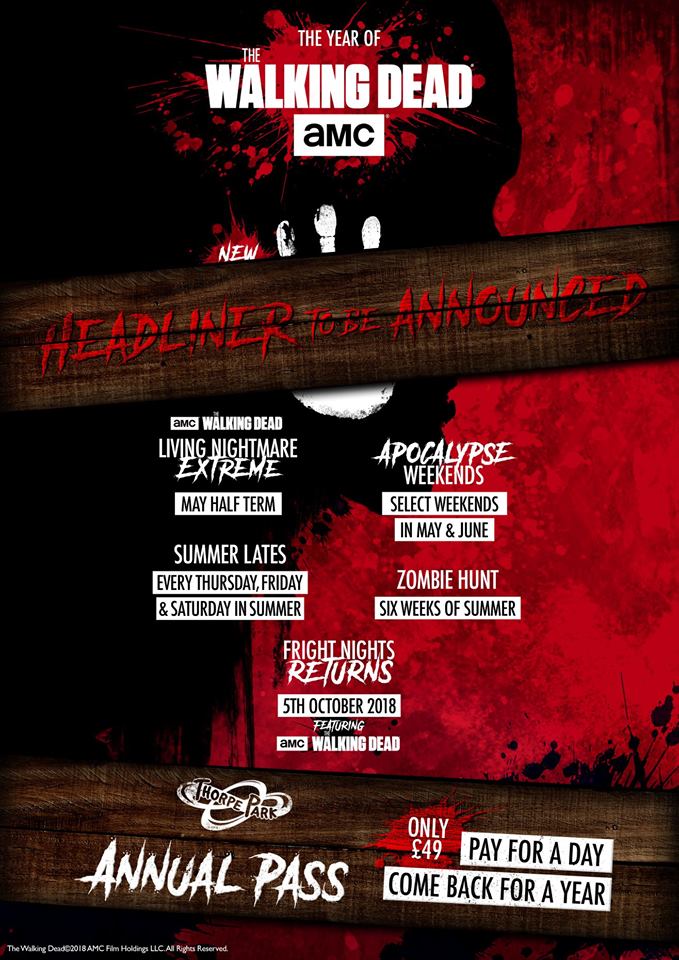 The Year of The Walking Dead at Thorpe Park in 2018:
The Walking Dead: Living Nightmare Extreme – the live action horror maze at its most terrifying, available only for May Half Term (25th May – 3rd June)
Apocalypse Weekends – select weekends in May and June, details to be confirmed
Summer Lates – opening until 10pm on Thursdays, Fridays and Saturdays from 26th July – 1st September
Zombie Hunt – an extreme battle for survival in woodland on the outskirts of Thorpe Park for the six weeks of summer (21st July – 3rd September)
Fright Nights – returns to Thorpe Park with a The Walking Dead theme (5th October – 31st October)
Plus, the headline attraction is still to be announced!
THORPE PARK Resort's Divisional Director, Dominic Jones said,
"THORPE PARK Resort is known for offering a thrilling day out, so it's no surprise that we're launching The Year of The Walking Dead by giving our scare actor hopefuls auditions at height on one of our rollercoasters. We want our guests to be able to immerse themselves in each unmissable experience that we have to offer throughout the 2018 season, and what better way to do this than to have the best team in place?"