Humphrey Percy, CEO, LRCH, said:
"This final round of consultation will be a crucial step towards completing our plans for the world class entertainment resort. We have subjected our project to considerable rigour in recent months, transformed it, and in turn are creating an inspirational and deliverable scheme. We are encouraged that industry experts have fully endorsed our decision to pursue a multi-IP, two gate strategy.

"We are delighted with progress on partnership agreements. We plan to build over 3,500 hotel rooms, operated by our new partner, Intercontinental Hotel Group; constructing the majority of the Resort and new roads and infrastructure with materials stored at and transported from Port of Tilbury, with whom we have recently signed an agreement. We are now in very detailed commercial negotiations regarding partners, the concepts they are embracing and some of the incredible creative propositions.

"We are encouraged and supported by our local authority partners to take the time to get this right; we have listened to our stakeholders and will now be consulting the public early in 2018 and submitting the Development Consent Order application in Spring of 2018. Our grand opening date is planned for 2023.

"The London Resort is a first for the UK. Not just because we are the first Business and Commercial Nationally Significant Infrastructure project, but more than that, together we are creating a Global Entertainment Resort without parallel in this country, propelling us into the top ten theme park resorts in the world. We are combining an investment of £3.2bn, just 17 minutes from the top tourist City destination in the world, alongside globally recognised brands, stories and characters from the world of television, film, books and games."
The development scheme at the Swanscombe Peninsula will be in direct competition with major UK theme parks, with an estimated 50 rides and attractions based on many popular brands from film and television.
The project would include not only a theme park but several hotels and Europe's largest indoor waterpark. It is expected to attract on average 40,000 visitors per day and create around 33,000 jobs.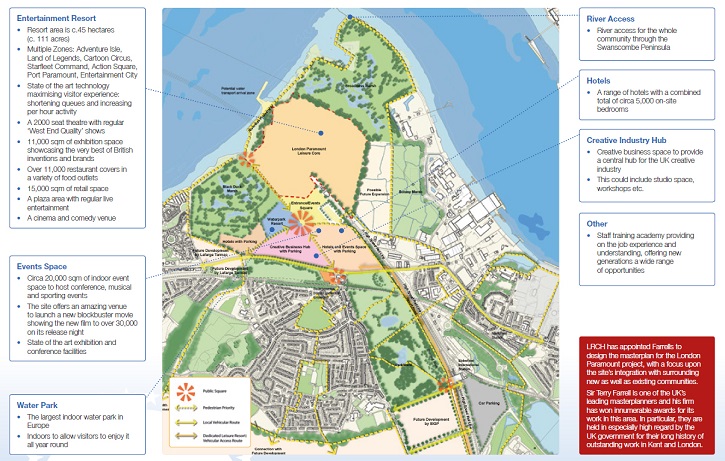 In the last few years BBC Worldwide, Aardman Animations and the British Film Institute have all signed agreements with the London Resort with intention to explore the right mix of British television, film and talent to entertain visitors.
The arrangement with the BBC means some of the best loved and celebrated programmes and characters to appear on British TV in recent decades could be brought to life at a world-class entertainment destination.
Aardman is one of the UK's leading animation studios, having produced a number of award winning feature films and TV series including Wallace and Gromit and Shaun the Sheep.
The British Film Institute will be the key cultural adviser to the project, providing strategic input on how British films and talent can be best incorporated into the Entertainment Resort.