The ride line-up now welcomes the Brooklands Speedway, Wedgwood Tea Cups and the Crazy Mouse. Meanwhile, a new garden boardwalk gives visitors the opportunity to admire the antique menageries from the 1800s, capturing the unique history of the site.
Designed to deliver an unforgettable day out for all ages, Dreamland will provide fun for all the family including the all new Teddy and Betty Land, where the park's mascots take on a starring role with stage shows and brand new rides. A retro Roller Disco and vintage arcades also offer a mix of nostalgic-tinted present-day pleasures.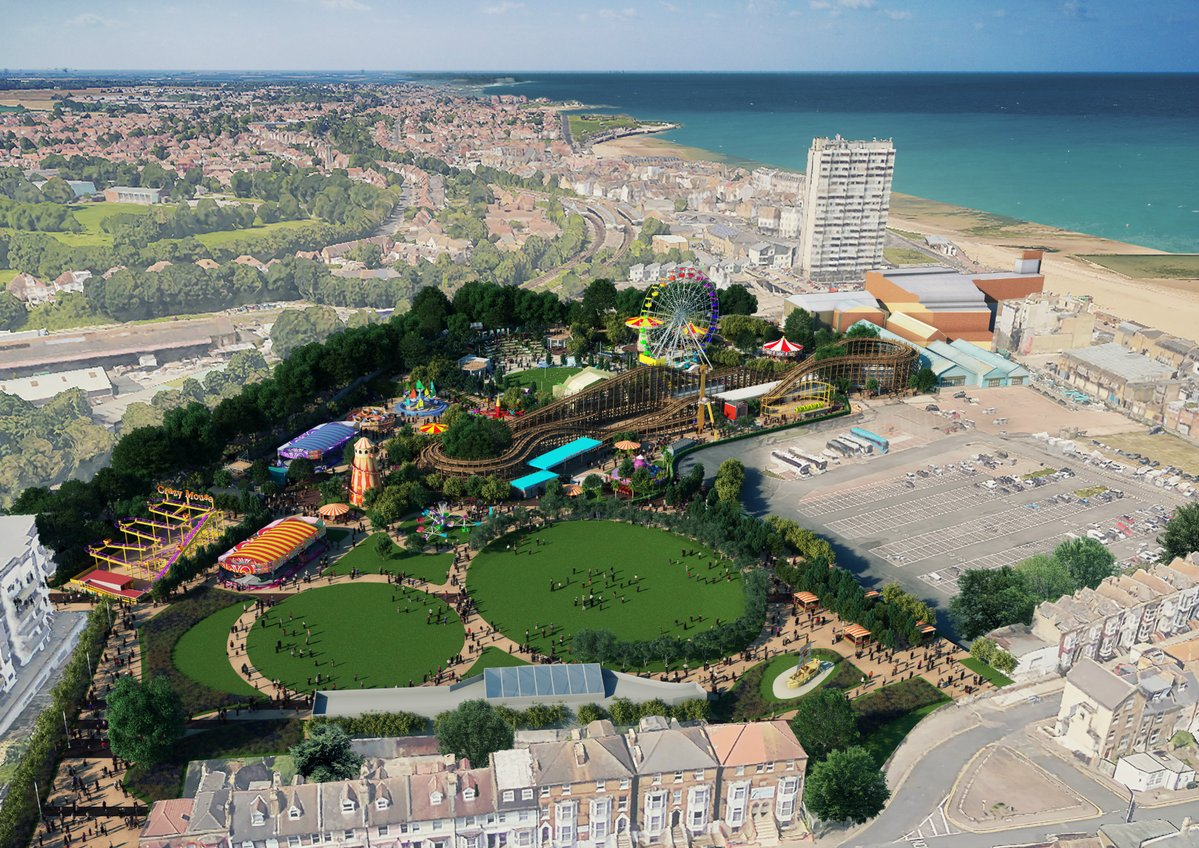 While the rides hail back to Dreamland's early days, the food is more contemporary, with vendors inspired by London's booming street food culture, offering a changeable feast of cuisine ranging from wood fired pizza to Mexican tacos. On the seafront, the original 1930s Cinque Ports pub is being brought back to life; once a favourite haunt of mods and rockers in the 1960s, it will offer modern pub fare with a front row view of Margate seaside. This summer will also see the addition of the region's only rooftop bar, offering unparalleled vistas over Margate's iconic skyline.
Bringing a festival ambience to the space are a coterie of venues including a 15,000-capacity stage set to welcome some of the biggest names in music, both local and international. The legendary 2,000 capacity Hall By The Sea – that once famously played host to The Who and Rolling Stones – will see renowned acts such as The Kills and Slaves take to the stage in 2017. Reimagined for a contemporary audience, and affirming the thrillingly unique perspective of Dreamland Margate, the destination will welcome a diverse range of acts straddling music, pop-up cinema, live comedy and even traditional tea dances.
Jennie Double, Commercial Director at Dreamland Margate, said:
"We cannot wait to unveil the new park to locals and visitors alike. By combining contemporary food and culture with authentic vintage rides and the uniquely British heritage that only we can offer – we believe we've captured something truly special with this newly imagined incarnation of Dreamland."
The reimagining of the famed destination is a key stage in the plans of the park's operator, Sands Heritage Limited, to play a major role in the on-going transformation of Margate's thriving seafront district into a world-class attraction for both local residents and tourists.